JAX INC. is a US-based industrial lubricant manufacturer with expertise formulating high-performance synthetic lubricants, fleet and heavy-duty lubricants, industrial lubricants and biodegradable and food-grade lubricants. Since 1955, JAX has earned a worldwide reputation as a leader in emergent lubrication technology.
Our 65 plus year commitment to R&D brings continuously improved products and new technology to market.
Our expert chemists, engineers, and lab technicians work tirelessly with customers and industry leaders on product development, predictive maintenance, and used oil analysis. Our flexibility, dedication to continuing education and response time set us apart from the competition.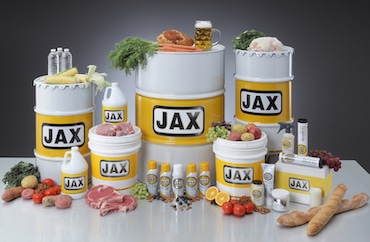 With a daily blending capacity of over 100,000 gallons, JAX lubricants protect extremely diverse OEM machinery.
Compounded with the finest raw materials and additive chemistries, JAX formulation decisions are based upon product quality and field performance leading to substantial cost savings through extended machine life, reduced downtime and increased production.
Our field team reacts quickly to new opportunities and is motivated to solve lubrication issues with innovative tactics and novel chemistries.
The science of lubrication chemistry and technology is continually evolving.
Products that have worked in the past may not provide adequate lubrication now or in the future. In order to meet our customers' newest, more technical needs, we constantly analyze the JAX line for opportunities to improve our chemistries, performance and value.
This proactive approach to lubrication allows JAX to provide superior products meeting and surpassing the ever-changing needs of industry.
We aim to advance the technology of applied tribology and exceed our customers' expectations.
JAX history of unparalleled customer support and innovative solutions, combined with our experience, technical skills, field service and world-class distributor partners propel it above the competition.