We are JAX Industrial Lubricants
JAX INC. is a US-based industrial lubricant manufacturer with expertise formulating high-performance synthetic lubricants, fleet and heavy-duty lubricants, industrial lubricants and biodegradable and food-grade lubricants. Since 1955, JAX has earned a worldwide reputation as a leader in emergent lubrication technology.
Our 65 plus year commitment to R&D brings continuously improved products and new technology to market. Our expert chemists, engineers, and lab technicians work tirelessly with customers and industry leaders on product development, predictive maintenance, and used oil analysis. Our flexibility, dedication to continuing education and response time set us apart from the competition.
With a daily blending capacity of over 100,000 gallons, JAX lubricants protect extremely diverse OEM machinery.
Compounded with the finest raw materials and additive chemistries, JAX formulation decisions are based upon product quality and field performance leading to substantial cost savings through extended machine life, reduced downtime and increased production. Our field team reacts quickly to new opportunities and is motivated to solve lubrication issues with innovative tactics and novel chemistries.
The science of lubrication chemistry and technology is continually evolving. Products that have worked in the past may not provide adequate lubrication now or in the future. In order to meet our customers' newest, more technical needs, we constantly analyze the JAX line for opportunities to improve our chemistries, performance and value.
This proactive approach to lubrication allows JAX to provide superior products meeting and surpassing the ever-changing needs of industry. We aim to advance the technology of applied tribology and exceed our customers' expectations.
JAX history of unparalleled customer support and innovative solutions, combined with our experience, technical skills, field service and world-class distributor partners propel it above the competition.
The JAX Family Of Products and Services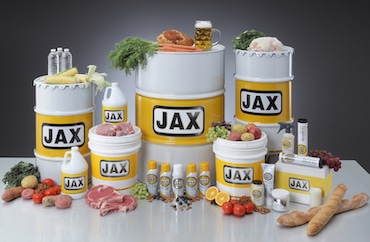 Food-Grade Lubricants
JAX has been at the forefront of food and beverage plant lubrication since the inception of true USDA food grade lubricants over 60 years ago. JAX was the first with a registered food grade grease at the birth of commercial food grade lubricants in our industry, and we continue to be first today with new product offerings for evermore demanding applications.
Industrial Lubricants
JAX formulates lubricants for the harshest industrial environments from the finest raw materials and additive chemistries, resulting in substantial, verifiable cost savings through extended machine life, reduced downtime and increased production.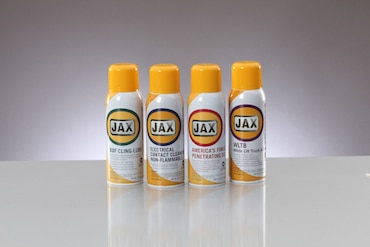 Aerosols
JAX manufactures premium quality aerosol and conveniently packaged products for industrial, food grade, and fleet maintenance. We research and formulate JAX brand and custom private label aerosols which dramatically outperform multi-purpose sprays. Visit the Store to learn more about the line of JAX aerosol products.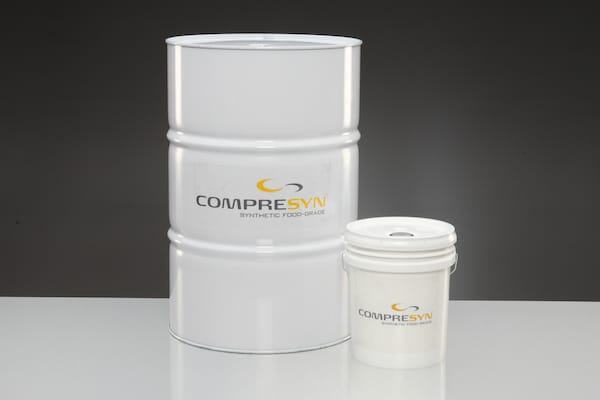 Compresyn®
The Compresyn line of premium fluids is specifically designed to provide enhanced wear protection and superior fluid dispersing characteristics for air compressors, vacuum pumps, and other critical equipment. Compresyn products are specially blended with innovative and patented formulation technologies for food and beverage plants and other high-demand industrial applications.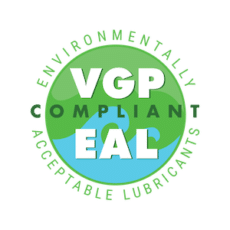 Bio-Guard™
Environmentally Acceptable Lubricants
JAX Bio-Guard products meet the technical definitions and requirements spelled out by the U.S. EPA intended to reduce the environmental impact of lubricant discharges on the aquatic ecosystem while providing superior performance and protection.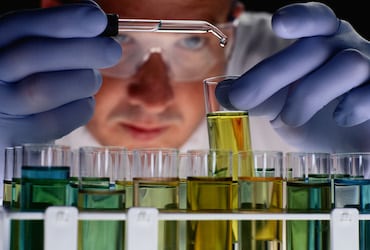 Used Oil Analysis
The used oil analysis program from the JAX/RPM Lab provides an invaluable tool for extending your equipment and lubricant life. Our color-coded reports make any deviations from machine or lubricant norms easy to spot. A relevant comment section may help direct maintenance personnel to the source of potential problems