Lubricants for food processing equipment are used to protect all kinds of machinery across a variety of industries.  In general, if something slides, spins, or moves, it needs some form of lubrication!  When we look at manufacturing plants around the world, lubrication is of vital significance as the machines in use need to keep running effectively.  There is one sub-segment of manufacturing, however, that uses certain specialized lubricants.  That segment is the food industry.  Do food plants really put the same lubricant in their meat slicers that we put in our automobiles?  Typically not, and here are 3 things to consider when selecting lubricants for use in a food processing facility.
Consideration #1: Food Safety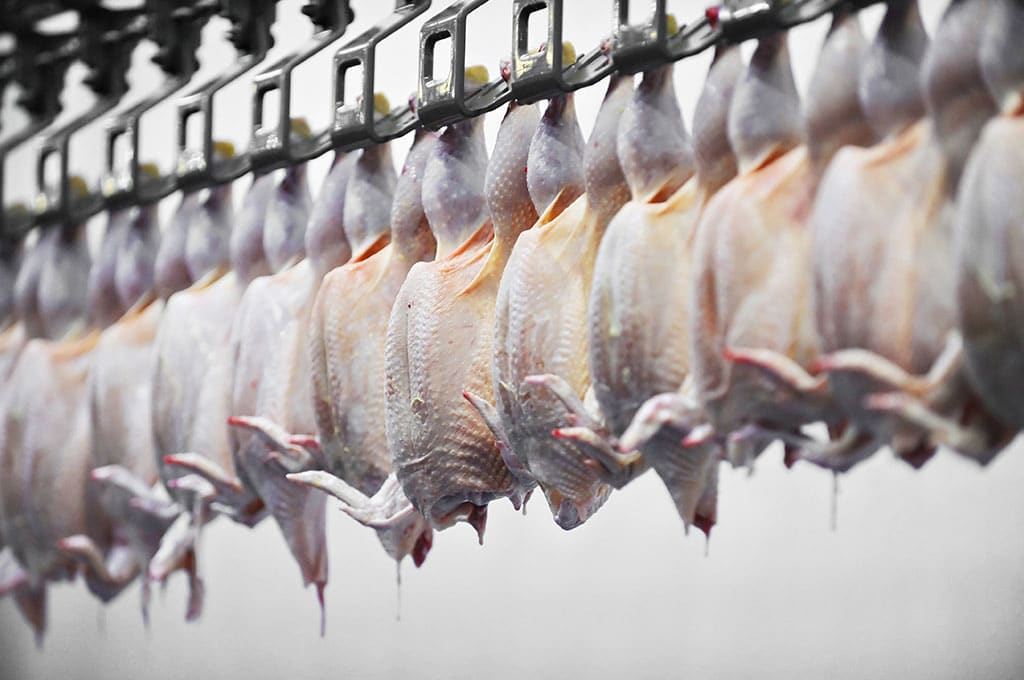 Food Grade vs. Non-Food Grade. What's the Difference?
One of the biggest differences between lubrication environments in food processing facilities and typical industrial manufacturing environments is the focus on food safety. In food processing facilities, lubricants are used in equipment that comes into contact with food products.  This means that lubricants used in food processing must be carefully selected and tested to ensure that they are food grade and will not cause any harm to consumers.
Who regulates "food grade"?
The term "food grade" is not found in the regulations first circulated by the USDA in the early 1960s.  The first actual designations used by USDA for these products were AA (now H1) and BB (now H2), and they applied only to lubricants for use in USDA inspected facilities.  
Other regulators and producers have adopted these standards because the USDA, with assistance of the FDA, did a good job of laying out the guidelines for these products in the early 1960s.  We call lubes "food grade" because they pass H1 or 3H requirements.  These guidelines were first standardized by the USDA and kept mostly intact by NSF and other NGOs.  
What are the H1 and 3H designations?
The primary difference between H1 and 3H designations is that H1 lubricants are approved for incidental contact with food.  3H lubricants are release agents that may have direct contact with food, such as in a bread pan or on a conveyor.
Knowing the difference, is H1 really food grade? Yes, H1 is food grade in the sense that no great harm will come from consuming the raw product, but it is not food.  Would anyone really consider adding them directly to our food and serving it to our family?  There are reasonable limits set for known contamination, but any responsible processor would consider the limits for lubes in their product to be zero.  The real reason the H1 safety factor is in place is for the undetected or unknown contamination incident.
ISO Compliance
Selecting a food grade lubricant can also play a crucial role in achieving compliance with ISO audits (or other such as BRC (British Retail Consortium)) in a food processing facility. Both ISO and BRC have strict requirements for food safety and quality management systems, and lubrication is a critical aspect of ensuring that these systems are effective.  Among these requirements are those for documentation and traceability for all materials used in food processing plants. Food grade lubricants are typically accompanied by documentation and certifications that demonstrate compliance with relevant regulations and standards, making it easier to provide the necessary documentation during an audit.
Risks of Non-Food Grade in a Food Grade Facility
Along these same lines, having both food grade and non-food grade lubricants in the same facility can pose several risks, especially in food processing environments where the risk of contamination is high. 
Cross contamination: One of the most significant risks of having both types of lubricants in the same facility is cross-contamination. If non-food grade lubricants are used on equipment that comes into contact with food products, there is a risk that the lubricant can come into contact with the food, leading to a potential food safety issue.  
Compliance: In food processing environments, the use of food grade lubricants is often required to comply with regulations and industry standards. Mixing non-food grade lubricants with food grade lubricants can lead to regulatory non-compliance and could result in fines or legal action.  
Human error: Having both types of lubricants in the same facility can lead to confusion among employees and potentially lead to the wrong lubricant being used in the wrong application. This could lead to equipment damage, downtime, and potentially pose a food safety risk.
Consideration #2: Avoiding Stoppages and Downtime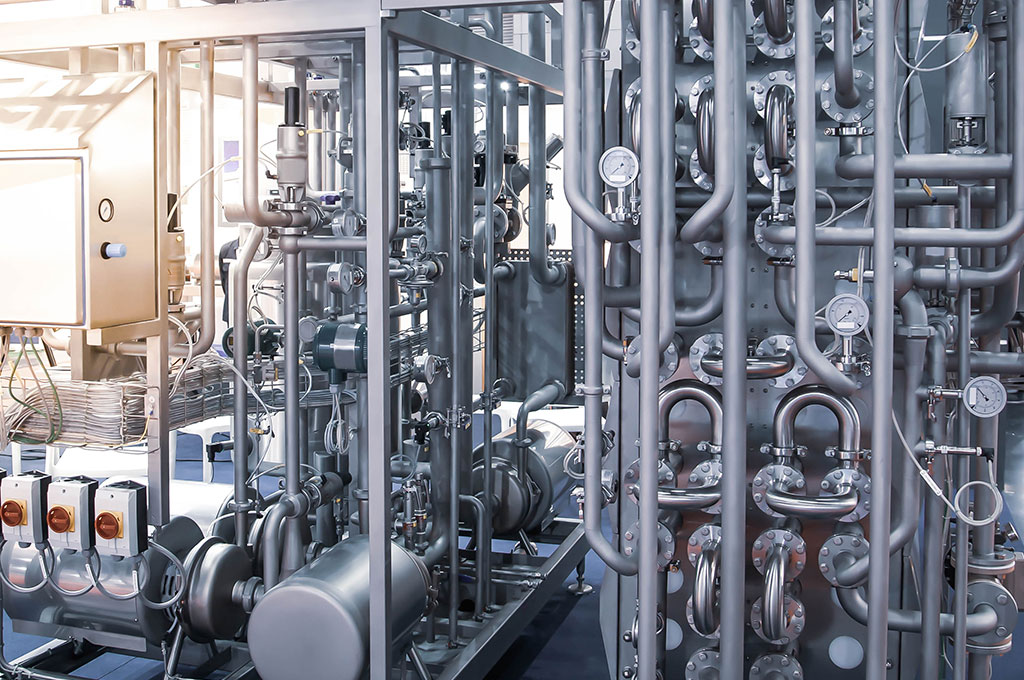 In a food production facility, reducing machine downtime and avoiding unexpected line stoppages is another key to success.  This holds true in general industrial manufacturing as well, but it is especially important in a food processing environment. 
When a machine in the production line stops working, there is a risk of significant downtime.  Downtime can occur for several reasons, including maintenance, repairs, or waiting for replacement parts.  We want to make sure that lubrication is not the issue!  The first order effects of downtime are decreased productivity, lost revenue, and missed deadlines.  However, in a food plant, there are serious other effects that need to be considered.
Contamination
A key reason why avoiding downtime is so vital in a food processing environment is that if a machine in the production line stops working, there is a risk that contaminants can enter the food product. This is particularly true if the machine that has stopped working is involved in processing, mixing, or packaging of the food product.
Safety/Quality Issues
The flow of food products may be interrupted or slowed down when a machine in the production line stops working, which can cause the food products to remain in the processing area for an extended period. This can lead to spoilage if the food product is not properly stored or if it is exposed to environmental factors such as temperature, humidity, or airborne contaminants.  
Additionally, if the machine that has stopped working is involved in a critical stage of the food processing or packaging, such as pasteurization or vacuum sealing, the interruption can cause a delay that can compromise the safety and quality of the food product. This can be especially problematic for products that have a short shelf life or require refrigeration.
Consideration #3: Application Environment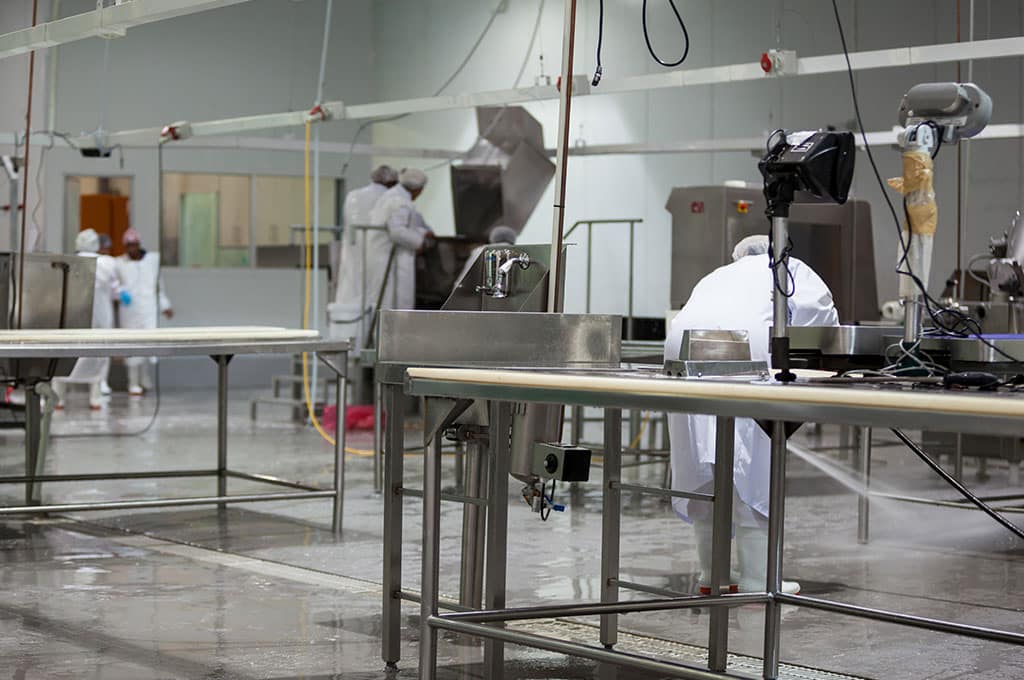 Now that it has been decided to focus on food safety and limit downtime due to lubrication issues, how does one best achieve that?  The final major consideration needed when selecting lubricants for food processing equipment is the lubricant's performance in the specific application environment.
No two plants are the same
Food processing equipment is designed to be used in a wide variety of environments. From the freezer to the fryer, from the dryer to the mixer, food processing equipment needs to be able to handle a wide range of temperatures and pressures. This means that lubricants need to be able to perform under all these conditions as well. Here's what you need to know about food grade lubricant selection for a few specific conditions commonly found in food processing.
Cleaning Process and Method
Food processing facilities are typically cleaned and sanitized using a variety of methods, including hot water, steam, and chemical cleaning agents. The specific cleaning and sanitation protocols used in a facility will depend on the type of products being processed and the equipment being used.
Water and steam: When it comes to selecting lubricants in these environments, the use of hot water or steam for cleaning can cause lubricants to break down or degrade, especially if the lubricants are not designed to withstand these conditions. It's important to choose a lubricant that has good water resistance to prevent it from washing away or emulsifying in the presence of water. Lubricants with good water resistance will form a barrier that protects against corrosion and wear and helps to maintain effective lubrication even in the presence of water.
Chemicals: Similarly, the use of harsh chemical cleaning agents can cause lubricants to separate or break down, which can lead to equipment failure or contamination of food products.  In all cases, it is beneficial to the life of processing equipment if it can be lubricated shortly after sanitization procedures to replace water and cleaning chemicals with fresh lubricant.
Temperature and Pressure
Many food plants also have areas with elevated temperatures and pressures.  For example, in food canning operations, products are often heated to high temperatures to ensure that they are fully sterilized. This means that lubricants used in food processing must be able to perform at high temperatures and pressures without breaking down or degrading. In addition, they must be designed to withstand the specific conditions of the food processing operation, such as exposure to steam or water.
In these high-temperature applications, it's important to choose a lubricant that has a high thermal stability to prevent it from breaking down or oxidizing at high temperatures. Synthetic base oils, such as polyalphaolefins (PAOs) and esters, are often preferred for high-temperature applications because they have excellent thermal stability. This helps to ensure that the lubricant can continue to provide effective lubrication and protection even at elevated temperatures.
Oxidation
It is also important for these lubricants to have good oxidative stability.  This will prevent the lubricant from breaking down or thermally oxidizing over time. Lubricants with good oxidative stability will resist the formation of harmful byproducts that can cause corrosion and reduce equipment performance. Synthetic base oils and high-quality additive packages can help to improve oxidative stability and extend the life of the lubricant.
Temperature and Viscosity
On the other extreme, many food processing facilities have very cold environments. When selecting food grade lubricants for food processing equipment for use in low-temperature applications such as a freezer, there are several key factors that should be considered. 
These factors are primarily related to the viscosity, which is essentially the 'flow-ability' or 'thickness' of the lubricant.  These are of special concern in low temperature environments because at lower temperatures oil viscosity increases and the fluid flows more slowly.  Using everyday objects, an oil may flow like water at room temperature, but when cooled down the same oil may flow like honey.  This rate of change is measured by a value called the viscosity index which is discussed below.
The first thing to look for is a low pour point. The pour point of a lubricant is the temperature at which it begins to solidify or thicken. In low-temperature applications, it's important to choose a lubricant with a low pour point to ensure that it can continue to flow and lubricate effectively even at extremely low temperatures. Synthetic base oils are often preferred for low-temperature applications because they typically have a lower pour point than mineral oils.
A second consideration would be a higher viscosity index.  The viscosity index (VI) of a lubricant is a measure of how much its viscosity changes with temperature. Lubricants with a high VI will have less viscosity change as temperatures change than those with a low VI. In low-temperature applications, it's important to choose a lubricant with a high viscosity index to ensure that it can maintain its lubricating properties and protect equipment even at low temperatures. 
Additional Thoughts
Just as vital as selecting the right lubricants for food processing equipment is ensuring that the lubricants are properly applied and maintained so they continue to perform as intended.  The correct frequency and volume of lubricant application can often be found in the OEM machine manual or calculated by speaking with a lubrication specialist.
When selecting the proper lubricant and application method for a food processing facility, one can have confidence that they are meeting food safety regulations, minimizing any unexpected downtime, and ensuring that the lubricant chemistry selected performs well in the application environment.